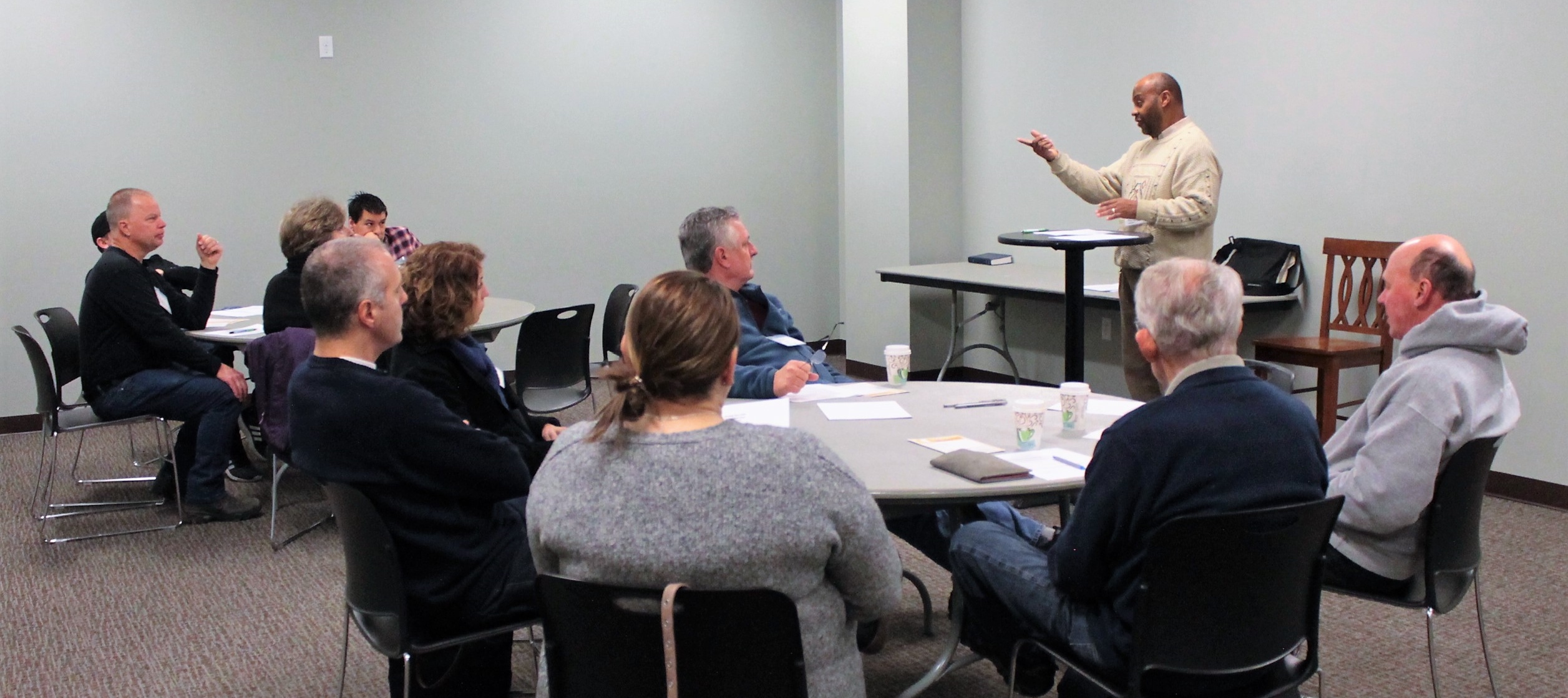 There are a wide variety of classes available to help you in your walk of faith. Here is the list of classes currently offered. If you have questions about any of these classes, email
EXPLORING CHRISTIANITY | ALPHA I
Tuesdays, September 22-December 1
6:30 - 8 pm
Meeting online
Have you ever wondered is there more to life than this? If you have, check out Exploring Christianity online this fall. No matter what your background is or your views on Christianity, this is the place to come and investigate the existence of God and the basics of Christianity. Everyone is welcome. This is a chance to share thoughts and ideas on the topic, and simply discuss it in a small group. There's no obligation to say anything. And there's nothing you can't say. It's an opportunity to hear from others and contribute your own perspective in an honest, friendly and open environment.

Cost: Free
If you have any questions, please contact Theresa.
THE JESUS LIFESTYLE | ALPHA II
Check back for future class dates.
The Jesus Lifestyle (Alpha II) examines Jesus' Sermon on the Mount and the radical alternative it presents to the modern lifestyle. Each talk provides life application principles that can be applied to live the life that Jesus wants us to live. The Jesus Lifestyle course is an excellent follow up for guests who have just completed Exploring Christianity (Alpha I) but anyone is welcome. Each session includes a delicious supper served for you and your new friends. After watching the DVD, you'll begin your table discussion with dessert. It's a time of great food, warm people and helpful information to inspire growth in your faith journey. If you have any questions, please contact Michelle.
MEMBERSHIP CLASS
Wednesday, October 28 |6:30-8:00 pm
Meeting online
Whether you want to join the church or just want to find out more about who we are and why we do things the way we do, you'll enjoy getting to know our pastors and each other during the class. If you have any questions, please contact Michelle.
Click below to register for the upcoming class:
BAPTISM INFORMATION CLASS
At Door Creek Church, we believe that baptism is a celebration of faith that Jesus specifically asked His followers to participate in. In fact, Jesus himself was baptized! If you are considering baptism, the Baptism Information Class is a great place to hear what the Bible has to say about baptism and learn more about the upcoming baptism service. If you would like to be baptized, visit baptism page for more information.
PREMARITAL CLASS
Sprecher Road Campus
Fall dates coming soon!
At Door Creek Church we believe a God-honoring marriage goes well beyond the wedding day. We are committed to helping you plan and experience a wonderful wedding and a healthy and loving gospel-centered marriage. Topics for this class include Gospel Basis for a Healthy Marriage, Marriage Expectations & Communication Style, Conflict & Crucial Conversations, Sex & Marriage, Creating A Missional Marriage and Financial Stewardship.
If you have any questions, please contact Cheryl McNamee.
THE MARRIAGE COURSE
Sundays, October 11-November 22 | 8-10 pm
Online meeting
The marriage course is for any couple, whether you have been together for 1 year or 61 years and whether you feel you have a strong relationship or are struggling! It is based on Christian principles but designed for all couples with or without a church background.

Over seven sessions of the course you will discover practical tools to help you:
Understand each other's needs
Communicate more effectively
Grow closer through resolving conflict
Heal the ways you've hurt each other
Recognize how your upbringing affects your relationship
Improve relationships with parents and in-laws
Develop greater sexual intimacy
Discover each other's love languages and much, much more!
If you have a strong marriage, this course will help you make it even better and will reinforce your good habits. If, on the other hand, your marriage is in difficulty, the course will help provide you with very practical tools to help you work through the issues. Some couples who are separated have used the course as a way of trying to get back together. Whatever your situation, the practical tools you learn will help improve and strengthen your relationship.
If you have any questions, please contact Michelle.
FINANCIAL PEACE UNIVERSITY
Tuesdays, October 6 - December 1
7-7:45 pm
Meeting online

Financial Peace University is a nine-week financial planning program that teaches God's ways of handling money. Through video teaching, class discussions and interactive small group activities, Financial Peace University presents biblical practical steps to get from where you are to where you dreamed you could be. This class will help you get rid of debt, manage your money, spend and save wisely, and much more!
If you have any questions, please contact Michelle.

REGISTRATION
DISCOVERING YOUR DESIGN
Sprecher Road Campus
Please check back for class dates.
What are spiritual gifts? Do we all have them? How do these gifts fit into God's mission? Discovering Your Design will touch on all these questions and more, as we learn how God uniquely designed each of us for a purpose. If you have any questions, please contact Michelle.
View Church Wide Class Calendar